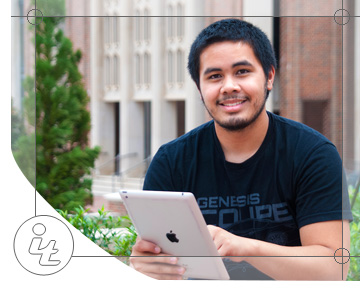 Mercer IT maintains a wireless networking system, by which the Mercer students can access the Internet.

In this section:
Wired Access (includes computers, game consoles, and other devices)
To connect to our wired network, simply plug an Ethernet cable into your computer, game console, or other devices and the wall jack with a blue tab (not white). Cables may be purchased at the bookstore or at the Auxililary Services office on the Macon campus; you will also find them at most major retailers.
NOTE: Game consoles, printers, and other multimedia devices are not permitted on the wireless network due to the bandwidth needed. You must use a wired Ethernet connection.


Wireless Access
To connect to our wireless network, simply select the MU-Secure wireless connection from the list of available networks. You will be prompted to enter your username and password (same as for logging into your MyMercer account). If you have never logged into your MyMercer account, click here for instructions.

You will use the same login and password to access MyMercer, MercerLive email, the wireless network, and on-campus computers. So, if you change your password for any of these systems, it will automatically be changed for all of them.
NOTE: If you receive a Windows Security Alert in reference to our certificate, simply press Connect to continue. Although our certificates are valid, Microsoft by default does not list our company, Entrust.net, in their trusted list.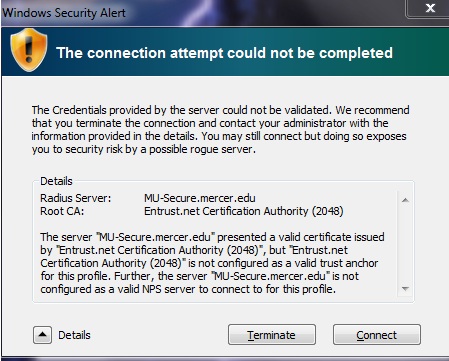 Wireless Access for Guests
Guests (which includes parents, visitors, etc.) may access the MU-Guest wireless network in select areas on campus. Simply select the MU-Guest wireless connection from the list of available networks. Once connected, open an internet browser. Guests will be prompted to enter a valid email address.
NOTE: The MU-Guest network is not available in the dorms, apartments, or lofts.