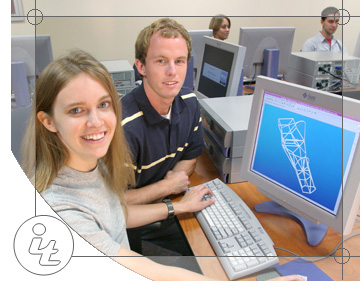 When new Mercer students arrive on campus, they usually want to get connected to the Mercer network (Internet) quickly. We understand. That's why we've put the following resources together for you.
In this section:
The information presented on this page is meant to be introductory. For more comprehensive details about the various Information Technology resources on your campus, explore the rest of this site.
MyMercer
MyMercer is an online self-service portal that allows students to manage courses, schedules, grades, financial aid, payments, and academic or administrative holds. For more information on MyMercer, click here.
Mercer Email Account
All currently enrolled students are automatically assigned Mercer email accounts. You can find out your Mercer email address by logging into MyMercer. Select My Profile then My Information from the menu on the left hand side of your MyMercer homepage. Your Mercer email adress is listed in your personal information. For more information about Mercer email accounts, visit the Email Access page.
Canvas
Canvas is an online course system that supports supplementary learning tools in an online environment. Students can download course materials (e.g., course syllabus, supplemental readings), view course announcements, review course calendars, track grades, or participate in online discussion boards using Canvas. For more information on Canvas, click here.
Internet Connections
Mercer IT maintains network systems (wired and wireless) that allows students to connect to the Internet on all campuses. Visit Network Access for more information.
IT Service Portal
The IT Service Portal is used to request technology services, report an incident, check the status of existing tickets, and view IT announcements, all in one convenient location! You can access the service portal at http://ithelp.mercer.edu. When prompted, enter the same login credentials used to access MyMercer and/or Mercer email.
Student Discounts
Several third-party companies offer favorable pricing on hardware and software for Mercer University students. These discounts are offered on purchases directly from the vendor—not the IT department. Visit the Student Discounts section of our website for more information.
Game Consoles and Other Multimedia Devices
Many game consoles and other multimedia devices, including Xbox 360, Wii, PlayStation 2, and Roku, are capable of connecting to the Internet for gaming, entertainment, updates, and other purposes. Simply plug an Ethernet cable into your device and the wall jack with a blue tab (not white). Cables may be purchased at the bookstore or at the Auxililary Services office on the Macon campus; you will also find them at most major retailers.
NOTE: Game consoles, printers, and other multimedia devices are not permitted on the wireless network due to the bandwidth needed. You must use a wired Ethernet connection.
Bear Print: Mercer's Pay-for-Print System
Bear Print is Mercer University's pay-for-print system that allows you to use your own personal computer or a Mercer computer lab workstation to print documents to any pay-for-print printer on campus. Using Bear Print, you can print your document and pick it up at your convenience! For more information on this system, visit Bear Print.