Faculty/Staff who choose to retrieve their Mercer email messages via an Android device must follow the steps below. The email settings below should work on any Android device, but the steps required to enter the information will vary depending on device manufacturer. The steps below are generalized to work for most Android devices.
Open the list of apps and launch the Settings app.
Look for Accounts, Accounts & Sync, or My Accounts and add a new account.
Select Corporate, Microsoft ActiveSync or Exchange, depending on your device.
Enter the Email Account Configuration Information listed in the table below.
The device should prompt to allow the server to administer the phone, or change security settings. Click OK or Allow to any security warnings or prompts. These settings allow you to remotely remove your account from your phone in the event that it is lost or stolen.
Email Account Configuration Information

Account Type:
Exchange
Server:
outlook.office365.com
Email:
Your Mercer email address
Port:
443
Domain:
merceru
Client Certificate:
None
Username:
Your email address (e.g. Doe_J@mercer.edu)
Security Type:
SSL or SSL/TLS (enable the option to accept all certificates, if available)
Password:
Your password (The same password used to access your computer, MyMercer, and CampusNexus)
Account Name:
Set this to your preference. This is how your account will be listed on your device.
Note: If there is a field labeled Domain\Username, enter your email address (e.g. Doe_J@mercer.edu).
Provided below are examples of properly configured accounts: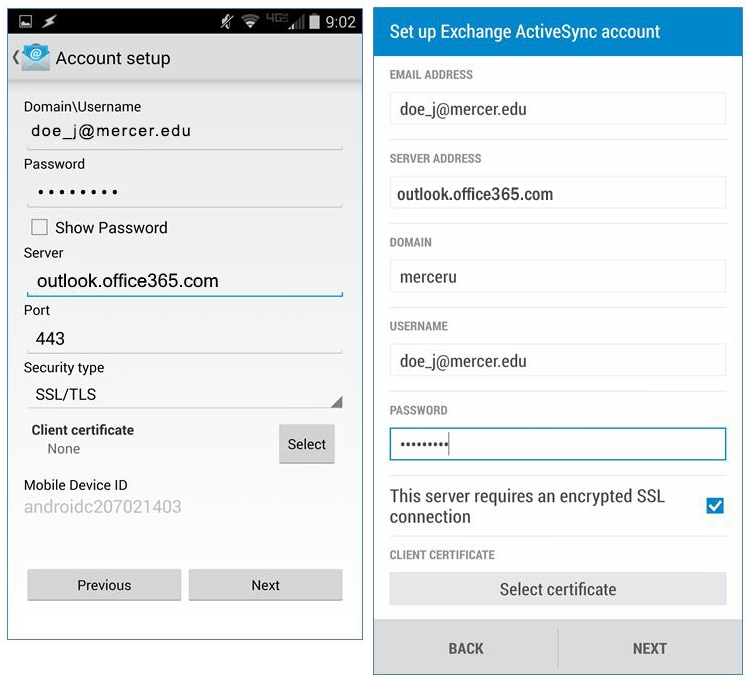 The following websites provide additional tutorials on how to configure each provider's phones: