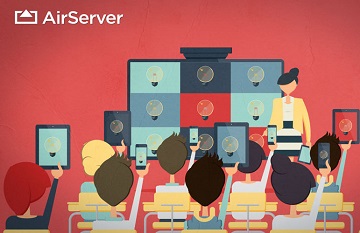 AirServer Connect is an application that allows for wireless mirroring of mobile devices. With AirServer running on a teaching station, professors and students can use mobile devices such as a iPhone, iPad, and Android devices to mirror their display to a projector screen. Turning the classroom into an engaging, collaborative space.
In this section:
Additional resources:
Installing the AirServer App

You may download and install the AirServer app from the Google Play or App Store or use the links provided below for your device.
Using AirServer in a Classroom
The AirServer application is installed on all classroom teaching stations. To begin sharing content from a mobile device, follow the steps below.
On a classroom teaching station, open the Start Menu.


Scroll down and select AirServer Universal (x64) to expand, select AirServer Universal (x64) to open the program.



Select the Show QR code button.



Scan the QR code using the AirServer Connect appon your mobile device. See the Installing the AirServer app section above.



Your device will connect and begin displaying.
If you have problems accessing or using the AirServer, contact the IT Help Desk.